My Favourite FM Player - Marquinhos
Introduction
A look at the teenage, Brazilian, goal machine - Marquinhos.
When was he great?
Marquinhos shot to popularity a few years ago in Football Manager 2009. He wasn't particularly cheap but, being based in Brazil, he was willing to join some of the minor European nations. Providing you could stump up the cash, of course.
Why I love him
He was among my first signings as manager of Swiss side, FC Basel. He took a few months to settle, but went on the rampage thereafter, scoring 34 goals in his first season at the club. From then on, he went on to be a club legend, scoring goals by the bucket-load. It wasn't until the next season that he really started to show his true colours. 70 goals and an average rating of 8.06 is still one of the best I have ever had.
What's he done in real life?
It's safe to say that he never quite lived up to his Football Manager ability. He was once ranked as the next big thing to come out of Brazil but, in reality, he is still plying his trade there with Vitoria.
What's he like in FM these days?
Good enough for a minor European league, but his potential has been seriously toned down. Getting him to somewhere that requires a work permit may be difficult as well.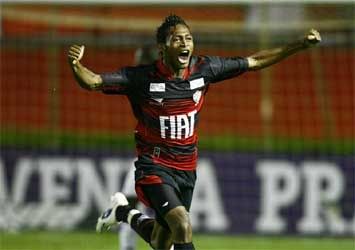 Discussion
Talk about topics related to articles at our messageboard here.
Information
Added: 17-01-2012
Views: 4883