Senegalese League
Description
Senegal has come to the fore of African football over the last 15 years or so, memorably beating France and reaching the quarter-finals of the 2002 World Cup, and reaching the African Nations final in the same year. It has never won a continental title at international or club level, but the national team has a host of European based stars.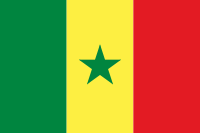 The league is traditionally a very open one, and the record title winners, Diaraf, only have ten championships to their name. Other big clubs include Douanes, Ouakam, Casa Sport and slightly fallen giants Jeanne d'Arc.
Player database here is patchy, but most clubs have at least a smattering of real players.
THIS MAY NOT WORK WITH OTHER CUSTOM LEAGUES LOADED.
There isn't much I can do about it at this point, but as a standalone league it should be good to go.
The database also contains a host of updates to African club football generally. I recommend retaining a healthy number of African players for the most complete experience.
Discussion
For more information, to debate, ask questions or praise this download please click here.
Images
Sorry no images available.
Information
Added: 27-12-2011
Downloads: 105