San Marino Kit Pack
Description
San Marino Kit Pack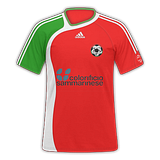 DOWNLOADING AND INSTALLING
1. Download the file.
2. With the file highlighted, right click and choose "extract here".
3. A single folder named
San Marino
should appear.
4. Copy/Cut/Move that file in to the following location:
C:\Documents and Settings\My Documents\Sports Interactive\Football Manager 2011\graphics\kits
Once this is done, you should see a single folder in there called San Marino. If you can see this, it has been installed correctly.
Load FM and go to: Options>Preferences>Display & Sound. Once on this screen UN-TICK the 'use skin cache' option and TICK the 'always re-load skin on confirm'.
Click confirm and then continue. Now check any of the San Marinese information screen and you should see the new kits. Any issues or feedback is welcomed in here.
NOTE
: Please don't re-distribute these without contacting the creator first.
Discussion
For more information, to debate, ask questions or praise this graphic please click here.
Images
Sorry no images available.
Information
Added: 16-07-2011
Downloads: 98